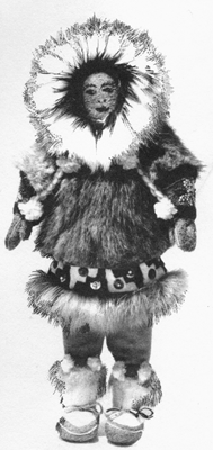 Athabaskan doll; made by Catherine Attla, Huslia. Photo by Mark Daughhetee.
ATHABASKAN LANGUAGES
AND THE SCHOOLS
A Handbook for Teachers
Written by
Chad Thompson
Edited by
Jane McGary
Alaska Native Language Center
Developed by
Alaska Department of Education
Bilingual/Bicultural Education Programs
Juneau, Alaska
1984
CONTENTS
Preface
Acknowledgements
Foreword
An Overview of the Athabaskan Languages
Map1. Distribution of Athabaskan languages
Map 2. Athabaskan languages of Alaska
Historical and Sociocultural Factor
Traditional Forms of Education
Oral Literature
The Present Condition of Alaskan Athabaskan Languages
History of Contact with European-American Society
Linguistic Characteristics of Athabaskan and English
Word Order
Athabaskan Verbs
Tense vs. Aspect
Plurality
Gender
Sound Systems
Cultural Patterns of Communication
The Use of Nonstandard English
Recommended Instructional Strategies for Language in the Classroom
Standard English Instruction
Emphasizing Human Diversity
Integrating Athabaskan Studies into the Curriculum
Athabaskan Language Instruction
Teaching Literacy in Athabaskan
Institutional Sources of Information and Assistance
Districts Serving Athabaskan Students
Bilingual Education Enrollments 1981-1982
Bilingual-Bicultural Education Programs 1981-1982

---
This publication was funded by a grant from the U.S. Department of Education, Civil Rights Technical Assistance and Training Programs, Grant Number G008200907. The opinions expressed herein do not, however, necessarily reflect the positions or policy of the U.S. Department of Education; no official endorsement by the U.S. Department of Education should be inferred.
The right to reproduce all or any part of this publication in any form, including photoxerography, microfilm, or microfiche, is reserved by the Alaska Department of Education.
Statement of Nondiscrimination: It is the policy of the Alaska State Department of Education to provide equal education and employment opportunities and to provide services and benefits to all students and employees without regard to race, color, religion, national origin, sex, age, physical handicap, or veteran status. This policy is in accordance with the laws enforced by the Department of Health, Education and Welfare and the Department of Labor, including Presidential Executive Order 11246 as amended; Title VI and VII of the 1964 Civil Rights Act; Title IX of the Education Amendment of 1972; Title 41, parts 60-1, 60-2, and 60-50; Sections 799A and 845 of the Public Health Service Act, where applicable; Section 504 of the Rehabilitation Act; and Alaska Statute 18.80.220. Inquiries regarding the application of these and other regulations should be directed to either the Affirmative Action Officer of the State Department of Education or to the Office of Civil Rights, Department of Health, Education and Welfare, Washington, D.C.
Alaska Department of Education
Pouch F
Juneau, Alaska 99811
| | |
| --- | --- |
| First Printing, June 1984 | 500 copies |
| Second Printing, November 1984 | 300 copies |
| Third Printing, October 1986 | 300 copies |
| Fourth Printing, April 1987 | 500 copies |
| Fifth Printing, June 1998 | 300 copies |
---
Alaska has always had a multiplicity of languages and cultures. Until 1930, Alaska Natives made up the majority of the State's population, speaking twenty Alaska Native languages, often English, and sometimes Russian.
Today, Alaska Native students comprise approximately 87 per cent of the language minority students enrolled in Alaska's public school bilingual-bicultural education programs. These students are from the Aleut, Athabaskan. Eskimo, Haida, Tlingit, and Tsimshian language groups. Other major language groups enrolled in programs include Spanish, Korean, Pilipino, Russian, Japanese, and Vietnamese.
The Department of Education has developed a series of handbooks designed to assist classroom teachers, bilingual-bicultural education and special education program staff, counselors and school administrators in improving instructional services for students from Athabaskan, Inupiaq, and Yup'ik language groups. These handbooks address the unique sociocultural and linguistic characteristics of each group as they relate to the school setting. They also provide educational resources such as recommended readings, listings of school districts enrolling students from each group, and sources of information, materials and instructional assistance for each language group.
The Alaska Department of Education wishes to recognize the individuals who assisted in completing this handbook.
Much of the material in this handbook is based on presentations given by Eliza Jones and Velma Schafer at the 1983 Summer Institute on Bilingual/Special Education in Fairbanks, sponsored by the Department of Education. Eliza Jones further contributed by reading and commenting on the draft versions of the handbook, and by providing the author with many of the stories and other examples contained in it. Melissa Axelrod also made valuable contributions to the writing of this handbook. Larry Kaplan and Steven Jacobson, authors of the handbooks on Inupiaq and Central Yup'ik, respectively, contributed many ideas; occasional passages from each handbook have been used in the others. Jane McGary typeset and edited the handbooks. Irene Reed has discussed the material with us at length and has proofread the work.
While each handbook benefited from the assistance of these individuals, final responsibility for the handbook rests with the Alaska Department of Education.