Language War
Cynthia Deike-Sims
"Language War," Cynthia Deike-Sims, "True North," Spring 1999, p. 36-39, 46. Used with permission of the publisher, for educational purposes only. Note from the publisher: The complete magazine is free, however, our press run was limited and many have already been distributed to various locations statewide. Contact distribution manager, Cynthia Deike-Sims: cynthiadeike@hotmail.com, for any available hard copy issues.
In the Battle Over English, Two Sides Enter Swinging
by Cynthia Deike-Sims
In the November 3, 1998 election, English became the official language of government in Alaska.

The law states that the people of the state of Alaska "declare a compelling interest in promoting, preserving and strengthening its use...The English language is to be used by all public agencies in all governmental functions and actions."

In February 1999 Alaska courts combined the cases into Alakayak and Kritz v. State of Alaska, which oppose the law.

The above cases blocked the law on March 3, 1999. Native American Rights Fund, the ACLU, and attorney Doug Pope are responsible for bringing the cases to trial.

On September 1, attorneys in Alaska will argue to kill the law because it goes against the free speech clause of the First Amendment for speculative reasons, it conflicts with the Alaska Constitution and it is not "content neutral."
'Gearing up' for problems
William "W.J." Elliot is one of over 70 percent of Anchorage citizens who voted an official English initiative into law in Alaska in 1998. "Sure, I voted for it," said Elliot, a fishing guide and University of Alaska Anchorage biology major. "I hate it when other people are around you and you can't tell what they're saying. I work at a fishing lodge at Redoubt Bay in the summers, and at the bar, there will be French and German guys, and you know they're making fun of you. I just think it's good to have to speak in English."
Anchorage office manager and UAA student Curt Achberger has a view of the American flag from his desk at the Republican Party on Fireweed Boulevard where he works.
"The Republican Party supported it. I voted for it," Achberger said. "It makes sense from an economical-fiscal perspective, especially in our state. That's the sole reason I did."
Susan Fischetti is the official spokesperson of Alaskans for a Common Language, the law's sponsor. She says the "proactive" law's purpose is to block the government from printing documents in other languages like other states have done. Alaska doesn't print documents in other languages, she says, but she is concerned because "Alaska is a young state with a large influx of people from other countries." Besides, it'll bring unity to immigrants and Americans, she says.
Can ethnic unity be achieved just by speaking English? "Definitely," Fischetti answers.
Not everyone agrees. Citizens in the state of Alaska put the law in limbo in February of 1999 when the Alaska Civil Liberties Union and the Native American Rights Fund filed Alakayak, v. State of Alaska, and attorney Doug Pope filed Kritz v. State of Alaska. The cases will be decided together on Sept. 1, 1999 when arguments will decide the fate of the law.
Fischetti says most Natives, even in villages, speak English. "Why all of a sudden, now, are they going to go backwards? Some of their languages weren't even written. If we want to have all the Native people stay in the villages the rest of their lives, that's fine, but times have changed," she says. U.S. ENGLISH, the Washington D.C. organization for Alaskans for a Common Language, wants to make the law national. But only five official English laws cleared in the 1990s, compared to 12 in the 1980s, when the U.S. ENGLISH movement began. In 1998, the Arizona Supreme Court overturned Arizona's official English amendment. In 1988, Utah's amendment was rejected. By court order, Alabama removed their English-only driver's license policy in 1998.
The oft-quoted U.S. Supreme Court case against official English from 1923, Meyer v. Nebraska, states: "The Constitution extends to all, to those who speak other languages as well as to those born with English on the tongue." Before the state enacts the law in Alaska, judges will decide if "gearing up for problems" is a legitimate reason to limit certain kinds of language.
Learning the Language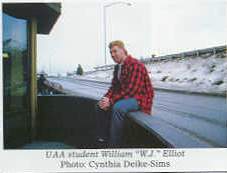 Susan Fischetti admits she doesn't know anyone personally who has immigrated to the U.S. or struggled to learn English as a second language, nor does she know how many Alaskans this law will effect. "Do we have any idea how many people who don't know English-or anybody that knows their language-that needs help? Where are they?" She asks. This concerns Aura Lema, an Anchorage resident from Colombia, who works at a homeless program with, among others, Hispanic immigrants. Lema began learning English during her first five years in America in New York and has been in Alaska for six years. Currently attending English classes part time at the University of Alaska Anchorage, she also spends time tutoring English to other immigrants.
"Many Anchorage Hispanics supported English Only," Lema said. "What they saw on TV gave them little reason to think the legislation would effect them, but it does."
Learning English is not as simple as just taking a few classes, she says. "I took classes many times. There are many economic inconveniences. It took more than five years to become proficient. It is not as simple as it sounds," she says.
Lema studied at the university and washed dishes, staying in her brother's apartment rent-free. "Imagine those who come over here and have to start paying rent," Lema says.
It takes more than a language to succeed in America; Lema explains: "You put a lot of information in our brains, but it takes us years to be able to speak it. Also, when we have an accent, people look at us in a bad way. It is frustrating for us. Picture yourself in a country where there is more in your head than you can say. You have to have a very strong personality to fight that."
Alaska Native opposition
Alaskans Against English Only fought the law with members Richard Benavides, a Hispanic UAA graduate now working for the Alaska Legislature, and Heather Kendall-Miller, an Athabaskan attorney for the Native American Rights Fund. They presented their side through the media, but they say misinformation from Alaskans for a Common Language and U.S. ENGLISH and less money put their cause at a disadvantage.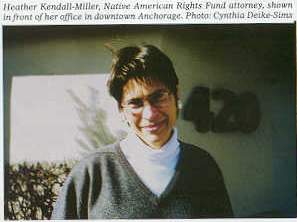 Kendall-Miller says Alaskans' fear that their state would become 'like California' by producing documents in other languages was unfounded. She says misinformation about the offering of California driver's licenses in different languages led voters to believe it. The California legislature created the policy; people didn't demand it, as U.S. ENGLISH would have Alaskans believe, she says.
"There was also misinformation that the Federal American Languages Act protected Native Alaskans, but federal courts (in Hawaii) have recently held twice that the statute offers no federal protection for languages," Kendall-Miller said.
A 1998 poll of Alaskans showing a 79 percent approval for official English also said Native Languages would be protected.
Kendall-Miller is concerned the law could curb Native languages in half of the 227 rural villages that are organized as cities.
Alaskans for a Common Language sued Lt. Gov. Fran Ulmer for removing a statement from the ballot summary that said basically, "the Federal Native Languages Act protects Native languages and this initiative doesn't conflict with the act." The group lost.
"Other groups opposed to the initiative wanted the summary to say that it would illegally constrain people from speaking their language. I was getting it from both sides," Ulmer said.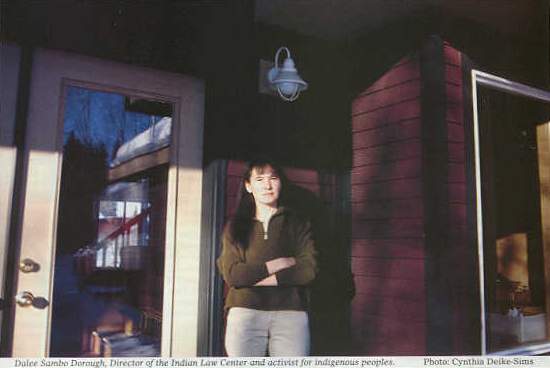 Before the issue went on the ballot, the Attorney General concluded that it "raises constitutional issues in the areas of freedom of speech, due process of law, and equal protection of the law." But it passed into law, anyway. Dalee Sambo Dorough, an Inupiat and the executive director of the Indian Law Resource Center in Anchorage, says Alaska Natives have much more political power in the fight against English laws than immigrant or Hispanic groups in Alaska.
She says Natives might belong to the only state in which aboriginal peoples are powerful enough to fight English only laws and win.
Dorough, who has spoken before the United Nations consistently for 17 years, says UN covenants give indigenous peoples the right to use their languages, but laws, like English only, go against those covenants. "The United Nations' International Covenant on Civil and Political Rights 'ensures that distinct communities are free from imposed or forced language choices," Dorough says.
"But it's deeper than just language," she says. "Rural Natives see everyone else as immigrants.
She says the effect of the initiative is to force people to make a decision about the language that comes first in their communities.
"It is the colonial attitude that 'our way is the only way' and that 'they should
Dr. Theodore Kassier, Dean of the College of Arts and Science at UAA. Photo: Jason Rand.
be like us.' It creates political and social tensions that are really unwarranted," Dorough says.
In December 1998 and January 1999, three Alaskan villages rejected official English. Tuntutuliak and Kwilligillingok adopted Yup'ik. Chilkat Indian Village declared that would fight against attempts "to remove, demote our language or the genocide of our language and our tribe."
Heather Kendall-Miller has fought the Supreme Court once before for Native rights, and she now gears up to do it again, if necessary. As lead attorney for the 27 plaintiffs in the case against official English, she is confident about the future outcome of the case.
"I don't think this is a case that will lose," Miller said.
Educator's opinions
Some of the strongest opposition to 'official English' nationwide has been from educators.
Wayne O'Neil, professor of Linguistics at the Massachusetts Institute of Technology (MIT) is a specialist in second language acquisition, linguistics and education.
"The situation in Alaska does look like it is the beginning of a language war, and of course, this is what people will do to protect their language and terrain," O'Neil said.
"U.S. English says generations of immigrants got their English without special provisions being made for them, so why can't these folks do the same. Well, the truth is that previous generations didn't get English so neatly: they got it quite unevenly: some did, some didn't, and some not so well. And it was painful," O'Neil said.
"Language learning requires much meaningful and useful interaction in English," he says. "It takes about seven years for a school-age person to get their next language.
The law is supposed to only apply to printing and reading government documents, but O'Neil says that's where the problem arises.
"As for government documents: most native speakers of English can't read tax-filing instructions, much less the laws that these instructions reflect," he says.
At the University of Alaska, Dean of the College of Arts and Sciences, Dr. Theodore L. Kassier, was previously a professor of Spanish and chair of the department of languages at UAA.
"Drafters of the law know nothing about English education, and they come from a narrow, uninformed perspective," Kassier says.
Kassier disagrees with the proponents' claim the law will save money. "The cost of printing ballots or rules and regulations in languages other than English does not substantially exceed the cost of printing those items in English itself. You've got some initial translation costs that are kind of a one-time cost that are really immaterial in the context of a state budget," he says.
"It does strike me as directed against minorities and directed against those whose native language or first language or heritage language is used. If you look at the map of 'official English states,' Alaska, California and Hawaii are anomalies in that most of the states with the law have limited non-English populations."
Hawaii actually has two official languages-Native Hawaiian and English. This means that the only states that have substantial non-English speaking populations and have agreed to become official English are Alaska and California.
Kassier says that because English is so prevalent in the U.S. and the world, declaring English as the official language "seems like passing a law to declare that air or oxygen is the official respiratory gas."
---